:: B O O K S ::
Impress your friends, that sexy person you're trying to seduce, burglars, spies and any ghosts that haunt your home, by filling your shelves with books.


CRYING IN FRONT OF YOUR DOG AND OTHER STORIES

My first book, CRYING IN FRONT OF YOUR DOG AND OTHER STORIES, is available directly from Uncivilized Books.





ALSO AVAILABLE AS A DOWNLOADABLE "E-BOOK"

You can read more about the book and look at some previews here.

PRAISE FOR CRYING IN FRONT OF YOUR DOG AND OTHER STORIES

"Phil McAndrew has created a world of his own making that exists in this little square volume, a comfortingly solid shape with glimpses into scenes that shift between the very familiar to a shadowy, dreamlike other side, with stories that move quickly, drawn in a minimum of panels, made sense of by the elegant humor he puts into each one. I loved it."
- Kate Beaton, New York Times best selling author of Hark! A Vagrant

"Phil has the linework and flair of an old school cartoonist, but with the energy and delight of someone still happy to be young, dumb, and full of pizza."
- Dustin Harbin, author of Diary Comics

"I met Phil McAndrew and his brother in 2009 and fell in love with Phil's comics. I keep them in my truck and hand them to passengers for fun reading material. Everyone always loves them. Last summer I stayed at Phil's parents' house when I was traveling through Syracuse. We watched TV, ordered a pizza, and Phil's dad told me a great story about interviewing a shirtless Jimmy Carter at a hotel in the 80s. Even if you don't get to meet Phil's family, this is a weird little fantastic book."
- Phil Dickey of the band Someone Still Loves You, Boris Yeltsin

"Have you ever tried to laugh and drool at the same time? Crying in Front of Your Dog and Other Stories gives you the opportunity to try just that! Beautiful pictures and funny words are combined seamlessly to give you that complete laugh drool experience you so dearly crave. Run, don't walk, to your local bib dispenser and prepare yourself for the full Phil McAndrew experience."
- Nathan Bulmer, author of Eat More Bikes

"There's always a bigger picture. Things could always be better. Things could always be worse. Enjoy. Grade A."
- Justin Giampaoli, Thirteen Minutes

"This is some pretty funny stuff, in the same vein as Michael Kupperman's Tales Designed to Thrizzle or Gary Larson's Far Side -- except it's different, isn't it, as it layers a fine drizzle of pathos and human-ness on top of its boffos and whiz-bangs. It's as if McAndrew is telling me intensely human stories, but he tells them by blowing hot air through enormous wax-lips made of the skin of Antonin Artaud, Jean-Paul Sartre, and Groucho Marx (if you can make wax out of skin), and is accompanied by the music of Spike Jones and Frank Zappa."
- Daniel Elkin, Comics Bulletin

"McAndrew is clearly funny enough to provoke volatile body expulsions, but he's provocative in a way that isn't explicitly tied to naughtiness. His shorter work is built around prompting, provoking a train of thought and a narrative through glimpses at larger, weirder scenarios, whether it's a miniature Al Gore in your fridge or a voyeuristic ghost. I think maybe what I'm getting at here is that there's a thrill to being such an active participant in a work of art, which I guess would make McAndrew the Marina Abramovic of the comix set."
- Nick Hanover, Comics Bulletin

::::::::::::::::::::::::::::::::::::::::::::::::::::::::::::::::::::::::::::::::::


BENIGN KINGDOM: PHIL MCANDREW

I also have an art book! It is beautifully printed and is full of my beautiful paintings and drawings.

It is available directly from BENIGN KINGDOM. Here is a photo: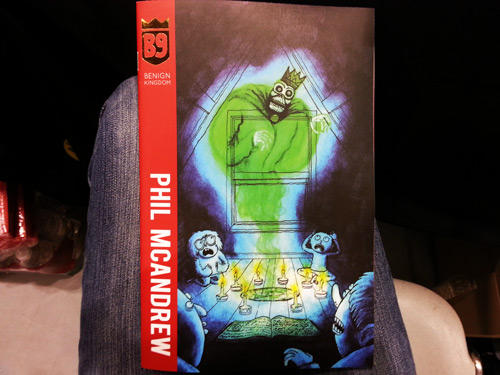 ::::::::::::::::::::::::::::::::::::::::::::::::::::::::::::::::::::::::::::::::::


CAVEBOY DAVE

A 256 page children's graphic novel, illustrated by *yours truly*. Written by Aaron Reynolds and published by Viking / Penguin Random House, it's the most massive project I've ever worked on. You can order it online here. It hits shelves November 1, 2016 and will be available wherever books are sold.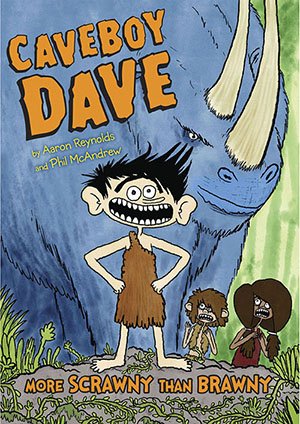 I've posted a few preview pages (sans text) from CAVEBOY DAVE right over here.

PRAISE FOR CAVEBOY DAVE

"Caveboy Dave is a hilarious new graphic novel series . . . imagine a prehistoric version of Wimpy Kid meets Captain Underpants."
—Boys' Life

"Nonstop action, belly laughs, and stabby cats. What's not to love?"
—Victoria Jamieson, author and illustrator of the New York Times bestselling and Newbery Honor–winning Roller Girl

"Fast-paced and funny."
—Mo O'Hara, author of the New York Times bestselling Zombie Goldfish series

"Wonderfully weird! Loaded with gut-busting laughs and prehistoric peril."
—Max Brallier, author of the Last Kids on Earth and Galactic Hot Dogs series


::::::::::::::::::::::::::::::::::::::::::::::::::::::::::::::::::::::::::::::::::


MONSTER SCIENCE

From the Kids Can Press website:
"What if the terrifying creatures of your nightmares were indeed prowling the big, wide world beyond your blankie?" begins the intriguing premise of this book. "Could they really exist? And if so, how?" In a completely original approach to exploring science, award-winning author Helaine Becker places six different kinds of monsters --- Frankenstein, vampires, bigfoot, zombies, werewolves and sea monsters --- under her microscope to expose the proven scientific principles behind the legends. For example, the chapter on Frankenstein delves into how electricity and organ transplants work in the human body, and whether they could really bring someone back to life --- all presented in short, readable sections. There's also historical background on each monster, as well as trivia and jokes in sidebars, and fun quizzes at the end of every chapter for readers to test their knowledge. Becker uses the never-ending appetite for all things monster to engage the imaginations of children and get them excited about science. The just-ghoulish-and-icky-enough illustrations by Phil McAndrew are pitch-perfect, drenched with child-friendly humor. This is a book with tremendous cross-curricular applications in life, earth and physical sciences, as well as in literature (myths and legends), history and literacy skills. With its playful spirit, this is also a book children will happily pick up and devour on their own.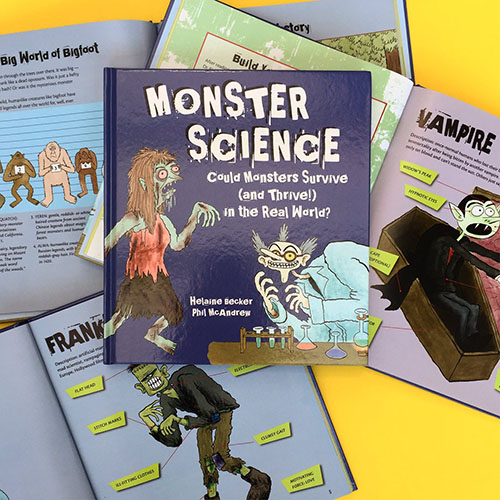 ::::::::::::::::::::::::::::::::::::::::::::::::::::::::::::::::::::::::::::::::::


ASTONISHING ADVENTURES!
JOANNA GRUESOME & PERFECT PUSSY 7" RECORD + COMIC BOOK

I created a 24 page comic book that comes with a 7" record by the bands Joanna Gruesome and Perfect Pussy.

A joint release from Captured Tracks, Slumberland Records and Fortuna POP!, the comic book + record can be ordered directly from any one of the three record labels or purchased in fine record shops around the world.





You can read more about the record and look at some previews from the comic here.

You can listen to a couple of the songs from the record right here.


::::::::::::::::::::::::::::::::::::::::::::::::::::::::::::::::::::::::::::::::::


SNAKE MOSQUITO TURTLE CACTUS

The first in a series of three ebook/PDF art books, SNAKE MOSQUITO TURTLE CACTUS, is available via gumroad.

You can read a little about the ebook and look at some preview pages here.






::::::::::::::::::::::::::::::::::::::::::::::::::::::::::::::::::::::::::::::::::



:: O T H E R__P R O D U C T S ::
Cool, smart, classy products for cool, smart, classy people.


I also have a variety of products available via society6. A few examples are shown below, more can be found and purchased here.