CRYING IN FRONT OF YOUR DOG AND OTHER STORIES
My first book. 264 pages of new and collected stories about life, death, love, ghosts, cats, time travel, humans, literature, fear, magic, evil organizations, happiness, television, secrets, dogs, loneliness, house
plants, ancient dark rituals, pizza, failure, power, money, nature, government conspiracies, regret, the internet, horrifying monsters, awful jobs, wizards, the ocean, aliens, dads, kissing, crying and teeth. Published in 2013 by Grimalkin Press, which has since merged with Uncivilized Books.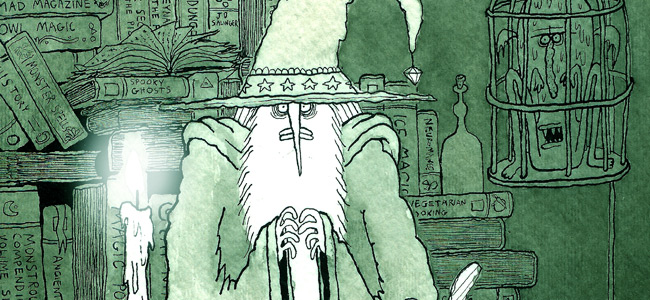 MAD MAGAZINE
I somewhat regularly contribute comics to MAD Magazine. If you're smart, you'll consider subscribing and if you're an idiot, you'll actually
go ahead and do it
!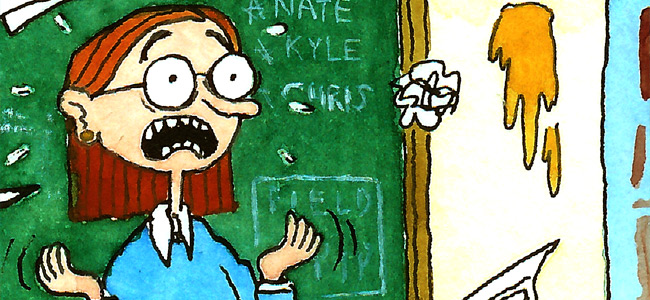 CAVEBOY DAVE
a 256 page children's graphic novel that I illustrated. Written by Aaron Reynolds and published by Viking Press / Penguin Random House, it's by far the largest project I've ever worked on. Published November 2016, it can be found anywhere books are sold. I'm currently working on volume 2.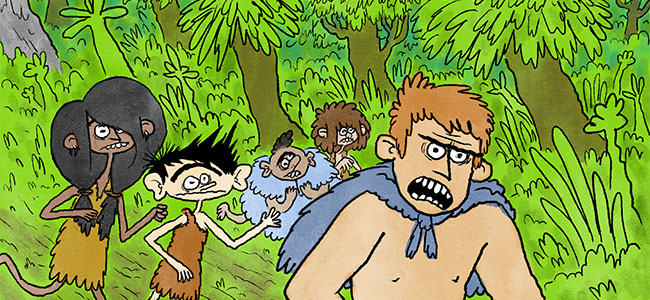 ASTONISHING ADVENTURES: PERFECT PUSSY & JOANNA GRUESOME 7" RECORD + COMIC BOOK
A 24 page comic book about a superhero and her battle against a pathetic, misogynist villain. The book doubles as packaging for a 7" record, a split featuring songs by Perfect Pussy and Joanna Gruesome. Drawn directly in ink in just two insane weeks and published jointly by Captured Tracks, Slumberland Records and Fortuna POP!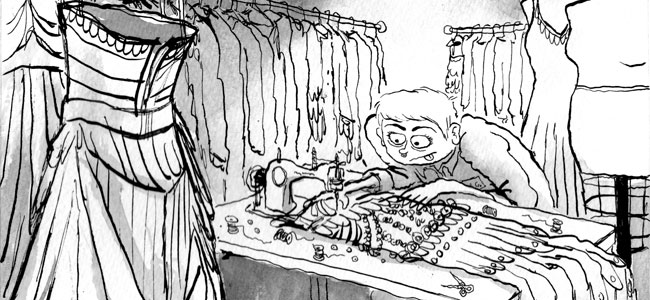 FERAL PIZZA
A rarely updated ongoing series of single panel cartoons and short strips, beginning with material I published in 2010 in a mini comic that was also titled Feral Pizza.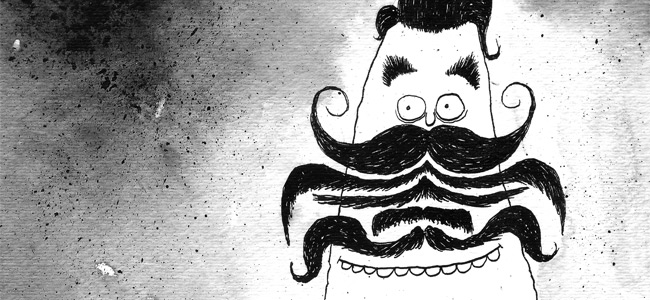 BOOK COMIC
A short mini comic illustrating a conversation between two friends about books. Drawn in 2009. The gentleman at Top Shelf Productions were nice enough to host the color web version of this comic on Top Shelf 2.0.
PEARLY WHITES
A twenty page mini comic about a sad old man, his regrets, and a chance to make things right. Drawn in 2009.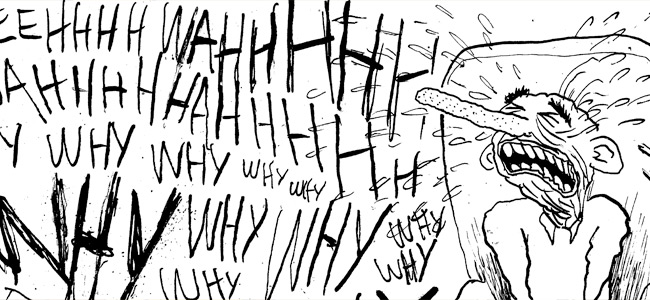 ARE YOU MAN ENOUGH?
A short comic about a young artist and his attempt to gain approval from his girlfriend's intimidating father. Drawn in 2008.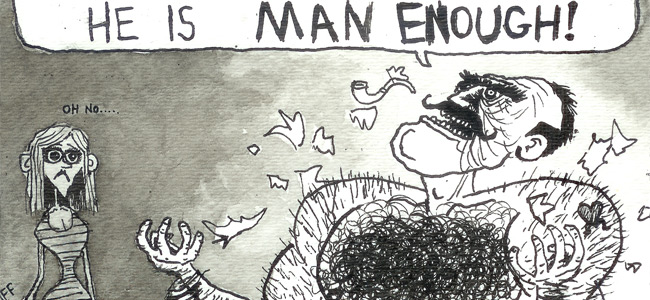 COME IN, BALD EAGLE
Seventy panels of secret code names, skateboarding, disguises, and rare stamps. Drawn in 2008. Originally published in the currently out-of-print third volume of the You Ain't No Dancer series of anthology books from New Reliable Press.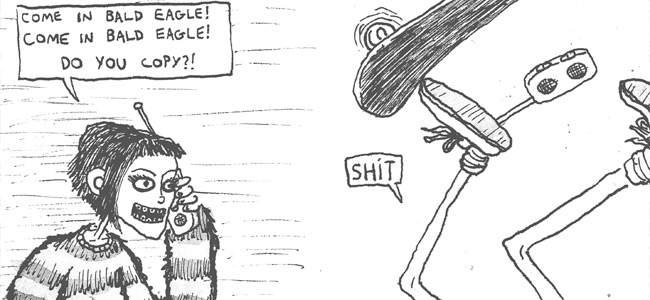 THAT DARN CANE
A short strip about a clumsy old man who drops his cane. Drawn in 2008, published in This & That #3.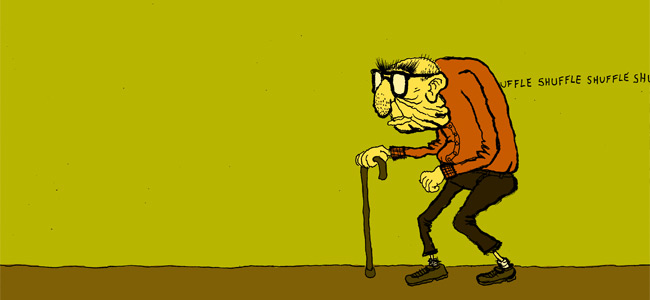 DOOMED
A short autobiographical comic about a big scary dog. scribbled into my sketchbook in one night back in 2007, published in This & That #3.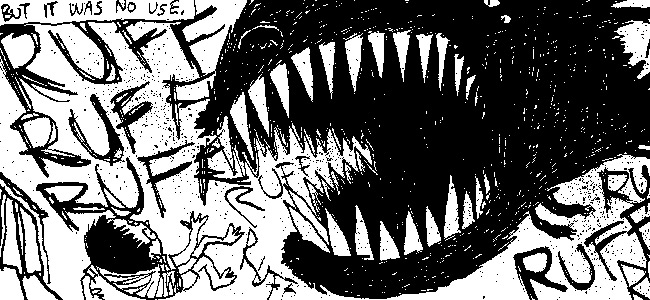 ANGELICA
Drawn in 2007, a five page comic about a painter who has lost his rather unconventional muse. I originally drew this for Plotz #0, the first issue of an anthology series I was publishing with a small group of friends. I later reprinted it in This & That #3. This comic contains some cartoon nudity!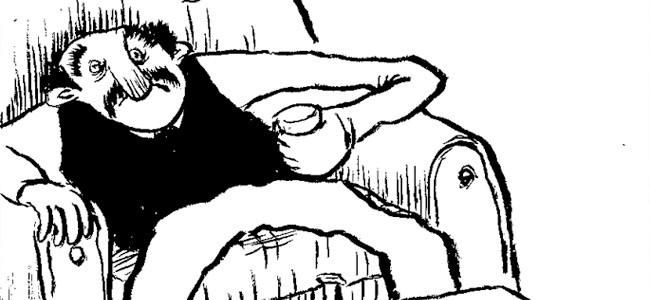 SHARP YOUNG MINDS
A true story from my grandfather's childhood. Six pages, drawn in 2006 and published by New Reliable Press in You Ain't No Dancer vol. 2.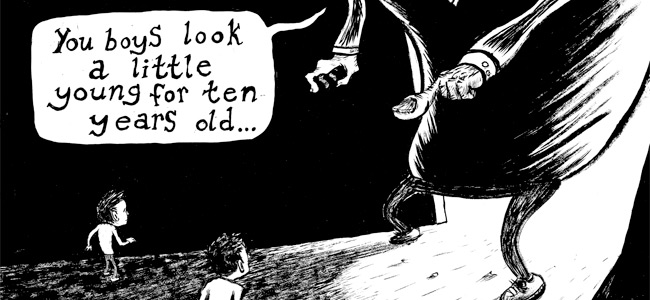 THE KIDS ARE DANCING!
A two page autobiographical comic about stepping on a bee hive. Drawn in 2005, published by New Reliable Press in You Ain't No Dancer vol. 1.