My first book, Crying in Front of Your Dog and Other Stories, was published in 2013 by Grimalkin Press, which has since merged with Uncivilized Books. The book collects my best comics from 2008-2013 along with around 100 pages of brand new material.


Buy CRYING IN FRONT OF YOUR DOG AND OTHER STORIES directly from Uncivilized Books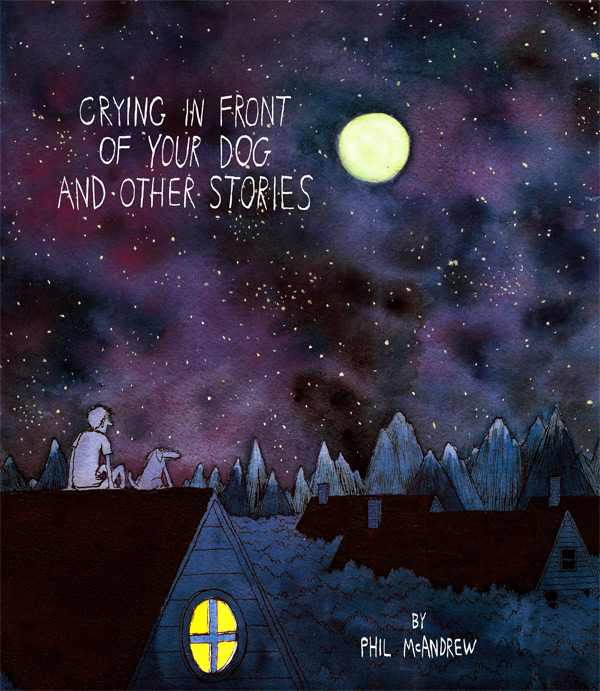 :::::::::::::::::::::::::::::::::::::::::::::::::::::::::::::::::::::::::


PRAISE FOR CRYING IN FRONT OF YOUR DOG AND OTHER STORIES

"Phil McAndrew has created a world of his own making that exists in this little square volume, a comfortingly solid shape with glimpses into scenes that shift between the very familiar to a shadowy, dreamlike other side, with stories that move quickly, drawn in a minimum of panels, made sense of by the elegant humor he puts into each one. I loved it."
- Kate Beaton, New York Times best selling author of Hark! A Vagrant

"Phil has the linework and flair of an old school cartoonist, but with the energy and delight of someone still happy to be young, dumb, and full of pizza."
- Dustin Harbin, author of Diary Comics and contributor to Drawn.ca

"I met Phil McAndrew and his brother in 2009 and fell in love with Phil's comics. I keep them in my truck and hand them to passengers for fun reading material. Everyone always loves them. Last summer I stayed at Phil's parents' house when I was traveling through Syracuse. We watched TV, ordered a pizza, and Phil's dad told me a great story about interviewing a shirtless Jimmy Carter at a hotel in the 80s. Even if you don't get to meet Phil's family, this is a weird little fantastic book."
- Phil Dickey of the band Someone Still Loves You, Boris Yeltsin

"Have you ever tried to laugh and drool at the same time? Crying in Front of Your Dog and Other Stories gives you the opportunity to try just that! Beautiful pictures and funny words are combined seamlessly to give you that complete laugh drool experience you so dearly crave. Run, don't walk, to your local bib dispenser and prepare yourself for the full Phil McAndrew experience."
- Nathan Bulmer, author of Eat More Bikes

"There's always a bigger picture. Things could always be better. Things could always be worse. Enjoy. Grade A."
- Justin Giampaoli, Thirteen Minutes

"This is some pretty funny stuff, in the same vein as Michael Kupperman's Tales Designed to Thrizzle or Gary Larson's Far Side -- except it's different, isn't it, as it layers a fine drizzle of pathos and human-ness on top of its boffos and whiz-bangs. It's as if McAndrew is telling me intensely human stories, but he tells them by blowing hot air through enormous wax-lips made of the skin of Antonin Artaud, Jean-Paul Sartre, and Groucho Marx (if you can make wax out of skin), and is accompanied by the music of Spike Jones and Frank Zappa."
- Daniel Elkin, Comics Bulletin

"McAndrew is clearly funny enough to provoke volatile body expulsions, but he's provocative in a way that isn't explicitly tied to naughtiness. His shorter work is built around prompting, provoking a train of thought and a narrative through glimpses at larger, weirder scenarios, whether it's a miniature Al Gore in your fridge or a voyeuristic ghost. I think maybe what I'm getting at here is that there's a thrill to being such an active participant in a work of art, which I guess would make McAndrew the Marina Abramovic of the comix set."
- Nick Hanover, Comics Bulletin


:::::::::::::::::::::::::::::::::::::::::::::::::::::::::::::::::::::::::


Here's what the full wraparound cover illustration looks like (sans text).






Here are several complete NEW stories that are included in the book, colored slightly for internet viewing:

THE VIDEO GAME

CLOUDS

DELIVERY

MUDDY WATER



Additional peeks at new material from the book, excerpted from different stories and presented in no particular order: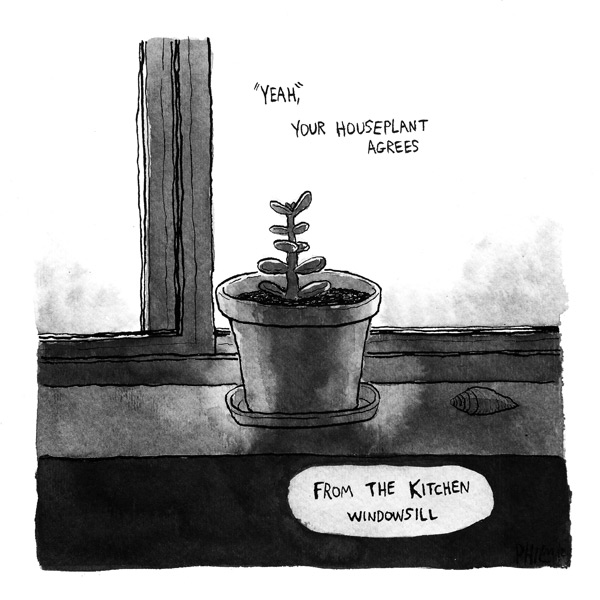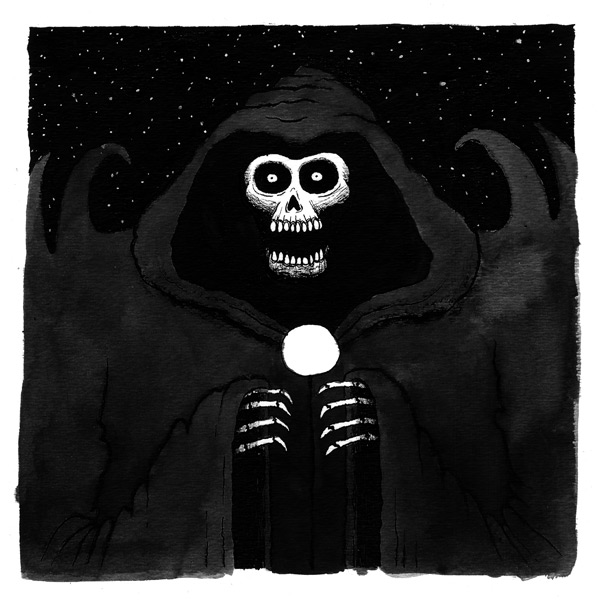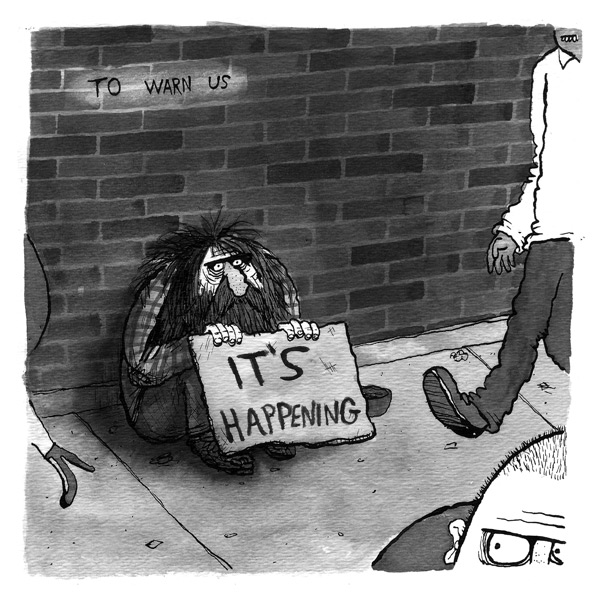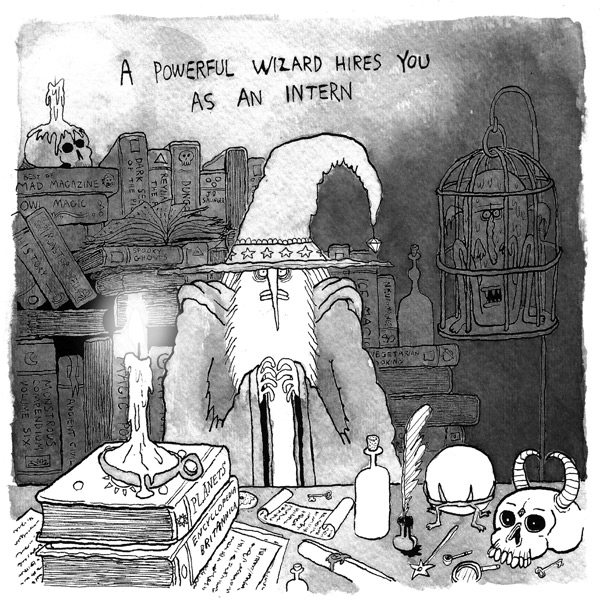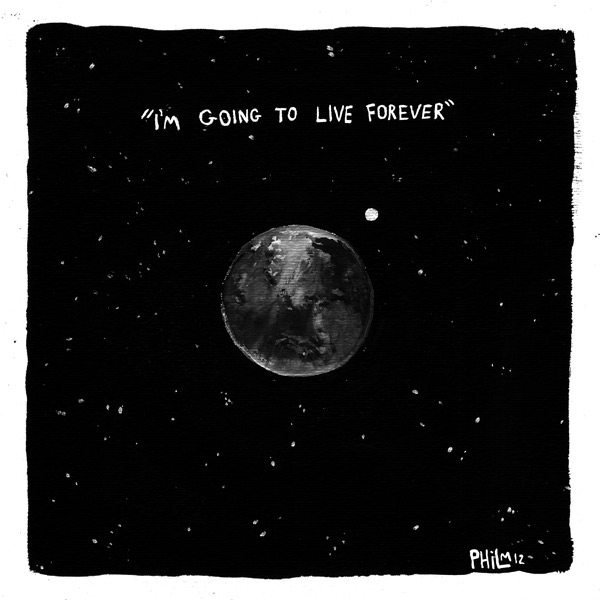 Older comics that are included in the book: Are You Man Enough?, Pearly Whites,
Book Comic, The Secret Thoughts of Harold Lawrence Windcrampe.





Best viewed at at least 1152 x 864 resolution. Unless otherwise stated, all content is © by Phil McAndrew