Tag Archive for 'Doodles'
Another tiny painting (2.5″ x 2.5″).
I've been making some little paintings (2.5″ x 2.5″).
Up above here is a new Feral Pizza cartoon. Using complicated scientific techniques I've created the most re-bloggable image of all time. If this isn't the most popular thing on tumblr by the end of the week I'll eat my hat.
And down below is a little ink doodle…
I'll be in San Francisco in a couple weeks for the San Francisco Zine Fest! I'll be sharing a table with the incalculably talented Roman Muradov. If you're in the bay area, come say hello! I'll have lots of mini comics and prints for you to fondle and purchase. This will almost definitely be the only convention I exhibit at this year.
Sometimes with comics or illustrations that require a lot of fine details, I like to scan my thumbnails in and pencil things digitally. I'll then print the digital pencils out and do the final inks on a light box. Just a glimpse at one of several projects that are keeping me busy right now.
Despite being really busy, I'm trying to make time for doodling. Doodling is super important, perhaps one of the most important things an illustrator or cartoonist can do. I find my doodling increases when I'm working on new comics (which I am!).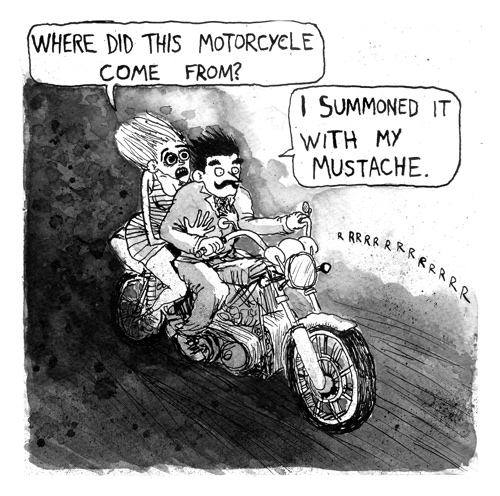 I've been adding new prints to my store almost every day! I just added prints of the image up above, a panel from Are You Man Enough! I'm so pleased to finally be able to offer prints! Check them out!
Hey guys! just a reminder that I'll be in Toronto this weekend for CANZINE. Come find me! I look kind of like this…
Also! Some of my illustrations are now available as prints thanks to the folks over at Inprnt. They are super fancy and SUPER affordable. Buy some prints!
I had the pleasure of hosting two of my favorite people on this planet this past week: Vicki Nerino and Britt Wilson. They came down from Toronto and stayed at my place here in Syracuse. The three of us went and goofed off in New York City for a bit too. We spent a lot of our time here in Syracuse doodling!
While in New York City, we hung out with the amazing Scott C, doodled below. It's impossible not to have fun while in Scott's company.
We also spent a lot of time with Nathan Stapley. That dude is the best. We spent a day at the Natural History Museum with him.
Of course, we had dinosaurs and cavemen on our minds for the rest of the week…
Vicki and Britt returned to Canada late last night. It's been such a fun week, I'm feeling sort of dazed right now. Very serious case of fun withdrawal. I've got lots of drawing to do though! And cleaning!
Just a little doodle from earlier this week. I hope you're all drawing something for the big contest I'm holding! And I'm still taking on commissions!
It turns out Ink Mountain is a volcano! After a period of inactivity, it's recently started smoking. Expect eruptions soon!
In other words: We're bringing Ink Mountain back to life. Expect new posts on a regular basis! I kicked things off with a little feature on one of my favorite cartoonists/illustrators ever. Vicki and I collaborated on the new logo up above (she's responsible for making it awesome). I gave the blog a bit of a face-lift to go with the new logo.
Here's a little peek at something I'm working on…
I decided to try drawing hourly comics on Saturday the 9th (my birthday). I started off strong, hit a stretch of incredibly boring hours, and then forgot to bring my little notebook with me upon leaving the apartment. Anyways, here are the first few hours of the 25th year of my life, hastily scribbled into a tiny notebook.