First, here is this week's Feral Pizza cartoon (click to enlarge)…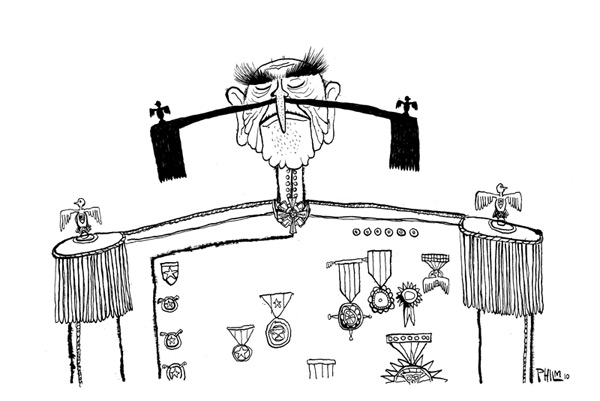 And on that note, I'm holding another CONTEST! A couple weeks ago I was contacted by the publishing company Lark Crafts. They said they had noticed my "exhibited affection for mustaches" and asked if I'd like a free copy of a new book that they're publishing, Stache: Frivolous Facts & Fancies About That Space Between the Nose and Lip (by Terry Taylor). I of course said yes! They then asked if I'd like an extra copy to give away on my blog. To which I of course also said yes. And so, ladies and gentleman. Boys and girls. Wizards and jet-pack guys. I present to you The 2010 International Beard & Mustache Illustration Championship Competition.
WHAT YOU HAVE TO DO: To enter the contest you must simply draw a picture of someone with a beard or mustache. Post your drawing in the comment section of this very post. If you're reading this via a reader or on livejournal or tumblr, please be sure to click through to my actual blog to post your drawing.
HOW DO I WIN: I won't simply be picking the most attractive drawing. I want everyone to have a shot at this. I'm going to be looking for creativity! I want to see some TOTALLY WILD beards and mustaches! Make me laugh! Make me fall out of my chair in awe of the facial hair you've dreamed up!
THE PRIZE: One brand spanking new paperback copy of Terry Taylor's Stache: Frivolous Facts & Fancies About That Space Between the Nose and Lip from Lark Crafts. I have not yet had a chance to sit down and read this book, but let me tell you: it is a NICE looking book. Plus it comes with mustache stickers. And some of the text and image on the cover are soft and fuzzy. This is a fancy book for a fan of fancy mustaches. I will also pick a couple honorable mentions who will receive print copies of my world famous mini comic Are You Man Enough?.
DEADLINE: The end of the day WEDNESDAY, AUGUST 18, 2010. That's just over two weeks away from the date this was posted! So much time to draw!
READY SET GO! And spread the word!
If you've got any questions at all, don't hesitate to ask!